I am so excited for you to meet Morgan of Pepper Design Blog today! I discovered her when I kept getting visitors coming to my site from hers. I went over to check it out and she featured one of my party ideas on her site. And I'm so glad I stopped by Pepper Design Blog. One look over there and you'll be bookmarking it too. Pepper Design Blog is a site dedicated to sharing inspiring and innovative ideas for decorating your home, organizing your space and throwing the perfect party. It is all about inspiring the inner design guru in each of us… and so we share modern decorating ideas, DIY tips and ah-ha! moments for your nest or next soiree on a daily basis. With this week focusing on hosting parties, I asked Morgan to share with us her tips on how to simplify a birthday or any type of party. So here's Morgan who simply said…

Planning a celebration can be daunting (it's so easy to get carried away!) if you haven't established a careful method to your madness, here are a few suggestions that I like to keep in mind for each event:
1. KISS (keep it simple, stupid). Have you heard of my favorite acronym? When it comes to planning events it's easy to go overboard. A well thought out theme and a few special details is really all you need to create a memorable and exciting event. Themes play a crucial role to the cohesiveness of a party and walking into your planning process with colors or a simple design idea helps to keep you on track.
2. Handmade = Special. Not only is a DIY party much more personal but it's quite a bit nicer on the wallet. Take some time to add a few handmade details such as bunting, food/dessert buffet labels, stir sticks, favors or place cards. Your guests and guest-of-honor will appreciate the love. Pictures from a recent Pinwheel Party by My Life My Loves.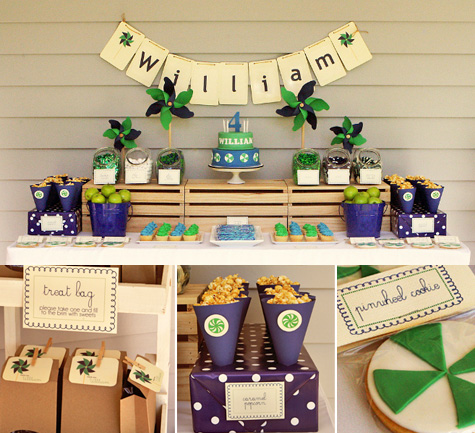 3. Invest in the good stuff. I'm a big believer in spending a bit more on core party pieces that will last you a lifetime.
• Vases: I have a cabinet full of beautiful glass vases (square, rectangular, round, you name it) left over from weddings, thrift store shopping, etc. I use these vases for every party I throw and I'm always thrilled to have easily accessible containers at the ready.
• Placesettings & serving dishes: During my wedding I registered for white contemporary dishware instead of china and have added to my stock through craigslist finds and garage saling (it's easy to find white ceramic plates, cups and bowls). We use my 20+ placesettings for all events (I'm not a fan of paper for environmental reasons – plus the real deal is so classy) with the exception of kids birthdays and then I'm all about melamine: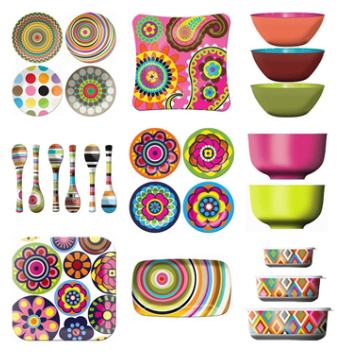 • Lighting: Over the years I've also amassed a fair number of votive candles, hurricane lanterns and globe light strands. Outdoor events require the right type of lighting to set the festive mood and it's not a bad idea to keep a few options on hand.
• Supplies at the ready: Along one small wall in my office I have a set of stacked white Ikea bins divided up by decor type. In one I keep table top decorations like festive napkins, colorful straws, birthday candles and paper lanterns, in another bin gallon ziplock bags full of vase fillers (river rocks, sea shells and even bags of rice), the third bin stores fabric remnants of every shape and size that (with a bit of hem tape) make instant themed table cloths & runners and and the last bin contains reams of scrapbooking paper for instant place mats, vase wrappers, paper bunting… the sky's the limit.
Here's a recent vintage nesting-themed shower I threw for a friend with several of my fabric remnants-turned-tablecoths-and-napkins (DIY here) and my rice vase fillers lining teacups votives. Below that are straws from Kikkerland, examples of scrapbook paper place mats and runners from HWTM and colorful paper lanterns.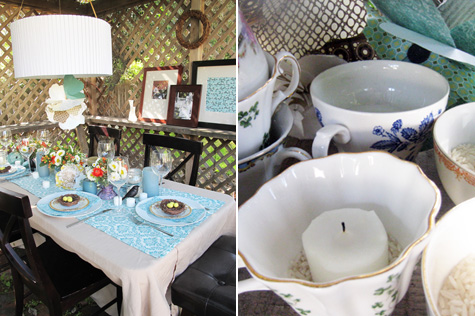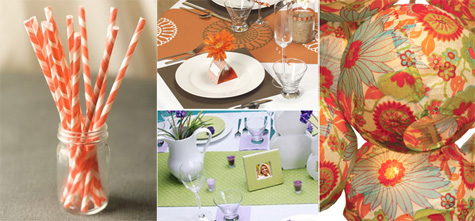 And those are my quick and easy tips for simplifying a birthday (or any party)!
Three tips for enjoying the planning process: find a theme and keep your decor cohesive, add a handmade touch, keep your favorite supplies on hand year round.