Wrap It Up Party continues with Morgan of Pepper Design Blog. She is so great at party ideas and interior design. She has the best eye for that kind of stuff. I love everything she creates. This is Morgan's wrap it up idea…
This Christmas I'm trying to find unique materials around the house to embellish gifts. I love that bits of felt, ribbon and even newspaper clippings can give a beautiful handmade look to simple projects like wrapping – and everyone loves a beautifully wrapped gift around the holidays!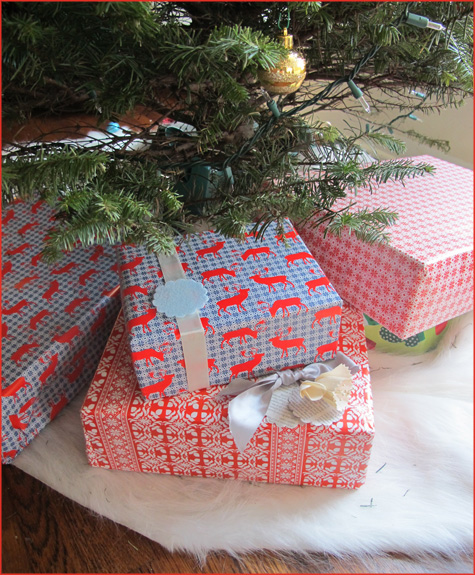 I fell in love with these Ikea wrapping paper rolls and decided that red and blue would be the theme under the tree this year, and two simple wrapping embellishments have emerged from my experimenting.
Speaking of experimenting, how great is this nifty EK craft punch in the shape of a large flower? It has quickly become my best DIY decorating friend and I've been experimenting with creative ways to use it around the house, such as with this vintage Christmas placesetting last week. I used it again to create the light blue felt decals (use the stiff felt, not the flimsy version) and the newspaper clippings (which make perfect name tags!) for this wrapping project. Finish your gift off with a crepe flower like the ones pictured or even a twig of berries (faux or real). So pretty!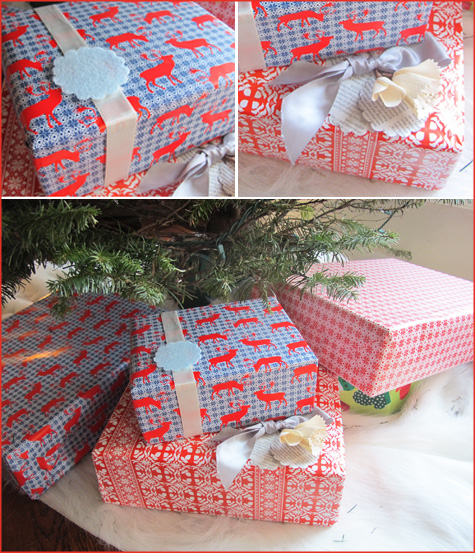 Thanks, Tiffany for including me in this neat series!
~Morgan @ PepperDesignBlog.com